In fact, "Hair treatment" such as rebonding, chemical colouring, perming are the most common causes of hair loss. In this article we will be discussing, non-aesthetic treatments that claim to combat hair loss whilst highlighting the top-rated salons that provide such services.
Before we go on to recommend the top solutions in Thailand, let's touch on the types of hair loss that occurs in females.
Genetics
This type of hair loss is the most common. Thankfully, more common in men than women. Genetic hair loss is usually triggered by:
Age
Changes in formones (i..e menopause)
Estrogenic oral contraceptive or other medications
Thyroid
Hairloss pattern:
The female pattern of hair loss is diffused rather than patchy. The partern starts off by a widening through the center parting, front hairline won't be affected as much (as compared to men) coupled with thinning of hair. The hair loss pattern is very different from that of men; as seen in the picture below:
Telogen Effluvium
This kind of hairloss is triggered by a traumatic event, i.e. dengue fever, covid-19, car accident and even child birth.
Stress is also a possible cause of Telogen Effluvium although it has to be quite intense to trigger this.
Basically what happens is that your body goes into a state of shock. All important vitamins and minerals will be diverted towards repairing the body or fighting the virus, etc; this then causes 20-60% your hair to go into the telogen stage prematurely.
Thus, anyone who suffers from telogen effluvium would start see an increased in hair fall 3-4 months after the traumatic event. Which is why when you read about post-partum hair loss, you'll understand why hair falls 3-4 months after birth and not immediately after.
Solution?
Most cases of hair loss can be treated. For those suffering from Telogen Effluvium, the good news is that, for majority of cases, most people will recover on their own with proper diet and rest.
For those suffering from genetic hairloss, it'll be harder to make a full recovery, but you can definitely reduce the severity of it. Here's 5 female hair loss treatment options in Thailand:
1) HERBAL SCALP TREATMENT
If you're looking for something safe and effective for minor hair issues, try out herbal scalp treatment. There are plenty of salons that offer such services especially in South East Asia.
Most of such treatment involves wrapping the scalp with chinese herbs and allowing nutritions to be absorbed into the scalp, promoting healthy scalp and blood circulation. The chinese believe that when the scalp and body is healthy, our bodies would be able to heal on its own.
Recommended for:
If you are suffering from minor hair loss, oily scalp, itchy scalp, sensitive scalp, and your hair follicles are still alive
In fact, one of the largest herbal scalp treatment chain originated from Singapore :
Bee Choo Origin is the largest scalp treatment brand in Asia with over 170 outlets across the region.
Founded and established in Singapore, year 2000 by Madam Cheah Bee Chew, the singapore brand prides itself with being safe, affordable and effective.
Bee Choo's treatment is made from nourishing chinese herbs, their treatment is 100% chemical free and works by healing the scalp and promoting blood circulation. Once the scalp is healthy and strong, the body will naturally rid itself of the common hair issues such as oily scalp, hair loss, dandruff, etc.
Bee Choo's wide range of specialty shampoos and tonics helps their customers do maintainence inbetween their visit to Bee Choo salons. It is largely recommended to visit their salon for treatment once per month as a form of supplement for the scalp.
Bee Choo also has a specialty 7 Outlets across Bangkok, Thailand. If privacy and premium service is what you prefer then check out Bee Choo Origin Herbal Thailand here.
Herbal Scalp Treatment Salons in Thailand:
Bee Choo Origin Herbal Thailand
786 salon
Bond Beauty Bangkok Asoke
The Palettes
Serge Comtesse Sensory Prestige Hair Salon at Sofitel Bangkok Sukhumvit Hotel
2) OVER-THE-COUNTER MEDICATION
Minoxidil is an over-the-counter medication, it usually comes in liquid form which is to be applied onto the scalp daily. It could also come in pill form.
Recommended for those with genetic hair loss:
This is either a hit or miss. Either you'll see results very quickly or no results. Give it about 6 months, if you see results then it works for you. If it doesn't it doesn't. However, if it is helping, you'll need to continue using the medicine indefinitely to retain the benefits.
With over-the-counter medication, there's usually a risk of side effects. If you're taking minoxidil, please be aware of the potential side effects which includes scalp irritation, unwanted facial hair growth.
Another medication is Finasteride (Propecia). However, this is a prescription drug for men only. It is not applicable for women.
Men take this daily in a pill form, most will experience a slowing of hair loss while some may see some regrowth in their hair. It'd take about 3-6 months to tell if it is working.
Do note that there could be potential side effects include a loss of sex drive, sexual function, higher risk of prostate cancer.
3) HAIR TRANSPLANT
This is a painful process, a minor surgery in fact. The surgeon will extract grafts of foolicular units one by one from the scalp, areas in which are fuller than the regions with hair loss (usually the at back of the head). Because the extraction is not done in a mechanical fashion but instead performed randomly, you will hardly notice a decrease in hair density in the donor area after the hair transplant process has been completed.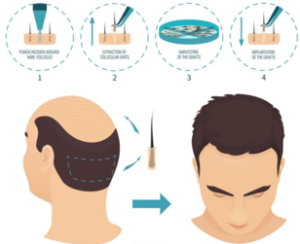 Recommended for people with serious hair loss:
As the number of follicles that are harvested can be controlled by the hair specialist providing the treatment, they can exact the precise number of grafts they will require from each donor site. Donor sites can then be covered with the surrounding hair to hide any loss of hair from the donor sites after the hair transplantation process. Most hairs from the donor site will usually also grow back. The specificity of this procedure also means that the hair specialists will be able to precisely control the density of the recipient site to ensure that the finished look is a natural one that you will be happy with.
Hair transplant is costly and painful. It'd take about 6 to 12 months for the healing process to be completed. The movement of the hair follicles is permanent. The effect will last several years, and most candidates will require multiple sessions of transplant surgery to achieve the results that they desire.
There are many hair transplant clinics in Thailand, this is a list of possible clinics you might want to research on before committing to any:
Nirunda Cellport Clinic
Kamol Hospital
KTOP Clinic
The SLC Siam Laser Clinic
Dr. Orn Clinic
Check out this review by www.medicaldepartures.com
4) HOME REMEDIES
There's a huge bunch of home remedies that you can find on the internet, some based on scientific facts, some old housewife tales.
Here's some of the home remedies that's popular on the internet.
Coconut oil
Aloe vera
Fish oil
Rosemary Oil
Lemon
Egg White
Olive oil
Massage
NOT Recommended
From our experience, the oils will do the job for hair ends, i.e. making your hair ends shiny and softer. But it won't make your scalp any healthier. The key to solving hair loss issue is getting to the bud of the problem.
As discussed earlier, the major cause of hair loss is usually genetics or telogen efflivium. For those suffering form telogen efflivium, you'll like to recover on your own. And you have a higher chance to recover on your own if you're healthy, getting enough sleep and eating right! So, the best home remedy that will work is just to eat right, get at least 7 to 9 hours of sleep plus regular exercise.
Massaging your scalp will promote blood circulation, but becareful, make sure your fingers are clean and do not pull onto your hair when you're massaging your scalp. 5 mins of massage is sufficient, overdoing it or massaging too hard can have adverse consequences instead.
That's it for home remedies, if such remedies really work that most businesses in hair care wouldnt be able to survive. Better to take such home remedies with a pitch of salt.
5) ANTI HAIR LOSS SHAMPOOS
There are many shampoos that market themselves as being "anti-hair loss". You'll see tons of commercials on TV, sales people peddling it at the markets, or on the shelves of supermarkets and other shops that sells hair care products.
Recommended for people with minor hair loss issues
From our experience, such shampoos could potentially help those with minor hair loss issue, won't give it a high probability though. Such shampoo works by balancing the pH of the scalp or by introducing nutrient which the scalp could be lacking. If you're too busy to visit a herbal scalp treatment outlet (which we highly recommend for minor hair loss) then you can opt for anti hair-loss shampoos. However, if you're looking for a miracle shampoo that instantly cures hair loss, you'll be up for a disappointment. If such a shampoo exists, then everyone would know about it and there wouldn't be a need for articles like this to discuss about hair loss treatment options.
For those suffering from minor hair loss, you're better off with a higher chance of recover by acting quick and visiting herbal hair loss treatment. It is safe and more effective then gambling on a shampoo.